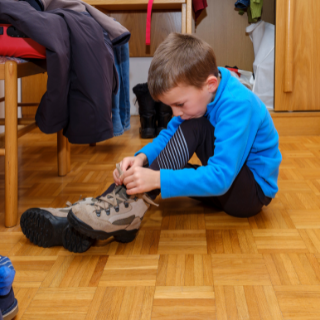 This practical life lesson is designed for 1 to 3-year-old children to teach children the art of wearing and removing their shoes.
Dressing skill is one of the most common developmental needs during the early growth stage and how to wear and take off shoes is one of them. Putting on and removing shoes independently is one of the key tasks under daily living skills. In addition, It also helps to foster a child's awareness of their own body by providing a base for more complex self-care and play skills.
Benefits of Teaching Children to Put and Take off Shoes:
It helps them to perform their tasks independently

and with confidence

It helps in strengthening the finger muscles.

It increases concentration. 

It helps to develop order and hand-eye coordination. 
5 Tips for Parents While Teaching their Toddler to Put on Shoes
Promote independence:

Encourage the child to wear the shoes independently. Guide them on how to wear it correctly.

Set the stage:

Children might get confused between the left and right pair of shoes. Keep the shoes in the correct position to avoid confusion.

Boost confidence

: To boost their confidence and promote patience, use words like very good, you can do it, excellent, clapping, etc. 

Demonstrate the correct technique of wearing shoes:

As shown in the video, show children to hold up the tongues of their shoes or sneakers, wiggle their feet inside, and then press down to adjust their feet in it.

Ask the child to sit while wearing shoes:

The child might lose their balance if they try to wear shoes while standing. Ask them to sit on a chair and wear their shoes.
Repeat this activity by asking the child to put on their shoes in the morning and take them off in the evening as shown in the video.
---
More Video Resources on Self-Care:
For more video lessons, visit https://theglobalmontessorinetwork.org/resource/
Video Created by: James Bauckman.
---
Tags
English
Practical Life
toddler